I'm seeing the world through pumpkin-tinted glasses these days, so when my eyes settled on the Buffalo Bill Pumpkin Ale display at the market the other day, I just knew I had to cook something with it. You see, it's day 14 of 31 Days of Pumpkin and time for something completely different.
A beer batter video came across my desk while working on my other project, StreamingGourmet: Where You are the Food TV Star (join today!) and I knew just what to do. I've always wanted to master deep frying with batter and today, I think I have. In the past, I've struggled with keeping the coating on the food and having it crisp up just right. Well I'm not exactly sure what went right today, whether it was the consistency of the batter, the high temperature of the oil, or the fact the oil was the right depth, but I got perfectly fried fish every time and it was a cinch. I ate the fried calamari too quickly to photograph it. Sorry.
The pumpkin flavor in the finished product was very subtle, but definitely there. Frying up the calamari on a big game day in October would be a great way to use this recipe. Eating fish and chips today for lunch felt like total indulgence. I needed a nap afterward. It's a tough blogging job, but somebody's got to do it.
Pumpkin Ale-Battered Fish
Serves 4
Ingredients
1.5 lbs of white fish fillets (I used Ling Cod)
Squid tubes for little snackity snoodles while you're cooking
Cooking oil for frying
8 Tbsp all-purpose flour
1-2 Tbsp canola oil
About half of 1 bottle of Buffalo Bill's Pumpkin Ale
Salt and pepper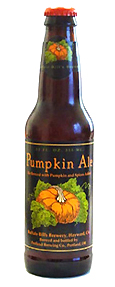 Method
1. Mix together the flour and 1-2 Tbsp of oil and gradually add beer in swigs, stirring all the while with a whisk, until the batter is about the consistency of pancake batter. Season generously with salt and pepper. Let the batter sit out for 30 minutes. This will give you time to prepare and cook the potatoes as well as prepare the fish for frying.
2. Heat the oil in a heavy bottom stock pot. You need enough oil so that the fish pieces will just float, but the oil will splatter during frying so it's nice to have considerable distance between the top of the oil level and the top of the pot. The oil should be very hot: 175˚C.
3. Cut the fish into goujons. That's the fancy French term for "strips" that are going to be fried – like chicken strips are really chicken goujouns. If you also bought squid tubes, cut them into 2 mm thick rings.
4. Working in batches so as not to crowd the pot, dredge the fish pieces in the batter and lower them into the oil. The oil should immediately bubble around them. Watch closely. They will start to turn golden brown pretty quickly. Turn them over if necessary. All sides should be a deep golden brown. Then with a slotted spoon, remove them to a plate lined with paper towels. Serve immediately. Garnish the plate with tartar sauce.
In June, I did a whole blog post about Sweet Potato French Fries. I like to use Garnett Yams, actually. Their color is a deeper orange, and their starch content is a little lower. Yams are so sweet. They have a higher water content than Russett Potatoes, so it can be difficult to get them to crisp up. Just make sure they're not crowded in the pan and salt them 10 minutes before you're going to pop them in the oven. Pat them dry before drizzling a little olive oil on them (and more salt). I bake mine at 400˚F for about 20 minutes, flipping them halfway through. In my earlier post, I fried them in oil, but I prefer them baked. When I fry them in the oil, they don't come out as flavorful and sweet as they do when I bake them, so I figure, why incur the frying guilt when the flavor just isn't enhanced?